Have no fear last-minute shoppers!
Finish your holiday shopping with exclusive "Deals and Steals" on great gifts and stocking stuffers. Snag fun socks, nail polish and beauty kits, deals from popular subscription companies like Kiwi Crate on kids' crafts, Mistobox's coffee sampler, or gourmet food from Taste Trunk. The deals start at $5.50, are all 50% off and come with gift certificate notification that arrives in time for Christmas. (Yes, free shipping!) Go to the GMA site for complete deal details and promo codes.
See our other popular posts:
AliceCorrine's Top 10 Female Celebrities of 2014
Also on sale today: NuFACE Skincare Treatments
Forget Barbara Walter's list of the most fascinating people of 2014 – I mean, how was Scarlett Johanssen relevant in 2014? Sorry Babs, but our list is much more compelling.
10. Clarissa Ward – this 60 Minutes reporter gave the interview of the year when she interviewed pro-ISIS radicals, providing a rare insight into the minds of extremists. She is well-versed in foreign affairs – her coverage of Syria has previously earned her two Emmy's and a Peabody award.
9. Susan Wojcicki – she is not only the CEO of YouTube but is also currently pregnant with her fifth child. At 46, she is eighth months pregnant and is running one of the country's hottest companies. Her journey started 16 years ago when she and her husband rented out their garage to Sergey Brin and Larry Page, who went on to found Google. She later became one of their employees. We're not sure how she does it but she's definitely an inspiration.
8. The women accusing Bill Cosby of sexual assault – although we don't know all their names and faces, their stories of sexual abuse by Bill Cosby are all eerily similar. A comedian, named Hannibal Burress, brought these accusations back to the public's attention this year when he talked about it in his act – the video went viral. (Bill Cosby settled out of court with one victim in a 2006 sexual assault case.) These women found their voices and were brave enough to finally come forward. Hopefully this will help them heal and prevent others from the same fate.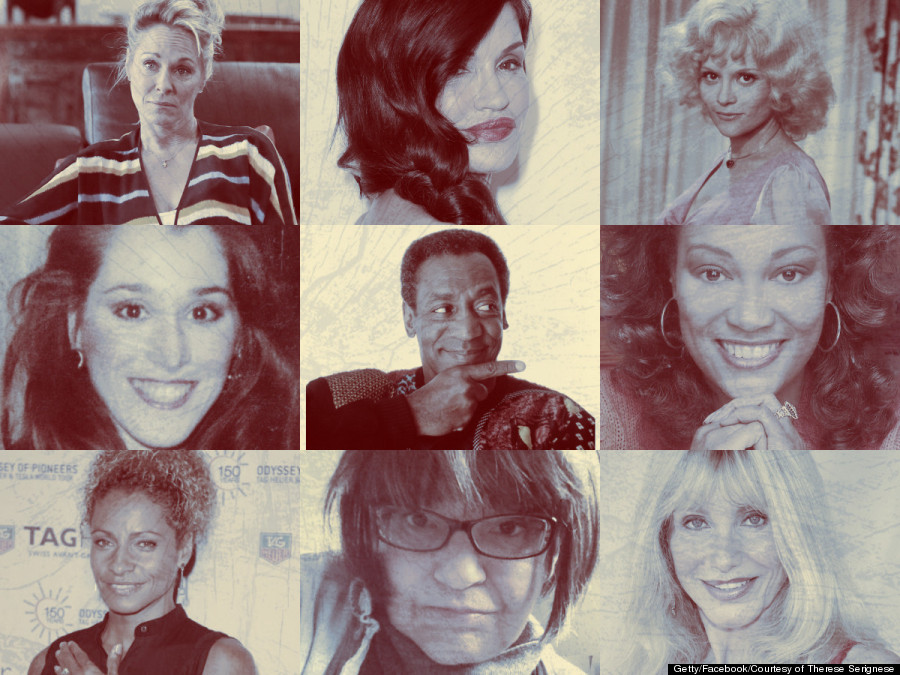 7. Amal Alamuddin – this London based lawyer captured George Clooney's fickle heart with her brains and beauty and instantly became a style icon with her grace and poise.
6. Gwen Stefani – made us remember why we loved her so much when she joined NBC's The Voice this year as a coach. Her sweet personality and fierce style, combined with her "phwiendship" with Pharrell, just make her irresistible.
5. Gwyneth Paltrow – she coined the most talked about phrase of the year with her "conscious uncoupling." Of course only Gwyneth could pull off a feat as seemingly impossible as a friendly divorce – but in the end it did give us all pause for a new way to look at one of life's most unpleasant and complicated events.
4. Kendall Jenner – we didn't think it was possible for another of Kris Jenner's daughter's to soar to super stardom but in 2014 Kendall Jenner did just that. She was one of fashion's most sought after models and was also named as the face of Estee Lauder. Not only that, she currently has 17 million followers on Instagram – just 6.5 million shy of her famous older sister, Kim.
3. Kim Kardashian – whether you're a fan or not, it's been hard not to notice Kim Kardashian this year. Her wedding whirlwind that took place in France and Italy; her Vogue cover with husband Kanye West; and her "break the Internet" naked photos all occurred in 2014. As Anna Wintour said, "Kim, through her strength of character, has created a place for herself in the glare of the world's spotlight, and it takes real guts to do that."
2. Taylor Swift – Ed Sheeran calls his famous friend an old soul. Maybe she is, and that is why she seems wise beyond her years. She certainly seems perfect to us. Whatever her secret is, her fans and friends are fiercely loyal. Her new album, 1989 sold over 1.2 million in it's first week. Shake that off Diplo.
1. Malala Yousafzai – in a year filled with unspeakable violence the top spot on our list must go to Malala.  At the age of 17, Malala won the Nobel Peace Prize for her struggle against the suppression of children and young people, and for the right of all children to education. We should all be as brave as her.
Celebrate girls and all they can be with these exclusive deals from American Girl on sale today at Zulilly. See below for some of our favorites from the sale and their prices – but don't hesitate on this sale, items won't last. These are also all guaranteed by Christmas. Click here to get started now.
American Girl® Light Skin, Layered Brown Hair, Brown Eye 18" Doll & Outfit Set on sale for $99.99 – normally $139
American Girl® Light Skin, Brown Hair Boy & Girl 15" Bitty Twins Doll Set on sale for $94.99 – normally $125
Doll with outfit, on sale today for $99.99  – normally $139
If you are in need of great gifts to round out your holiday shopping, look no further.  "Deals and Steals" has discounts of up to nearly 80 percent on items ranging from  delicious foods to earbuds to kids' toys and more. Go to the GMA site for deal details and promo codes.
Other sales today:
Holiday specials are being revealed now on the Today show with Jill Martin. Deals include Burt's Bees Baby set for $22.49 and … American Girl Isabelle doll for only $68! Don't wait on this sale – steals are while supplies last. Go to hip2save to order.
American Girl Isabelle & Pet Collection
Retail price: $172
Discount price: $68
Percent discount: 60 percent off!
Discount code: TODAYDEC
American Girl is offering their Isabelle and Pet Collection at a deep discount to TODAY viewers. The collection includes the Isabelle Doll & Book, Isabelle's Accessories, and Isabelle's Kitten.
American Girl says the product will arrive in time for Christmas at an estimated shipping cost of $5.95 (shipping increases for additional purchases). All sales are final. For more information and to buy the $172 product for $68, click here.
Also on sale today:
Sperry Top-Sider for Women up to 55% off
It's the most wonderful time of the year – and holiday savings are everywhere. Here are some of our favorite deals going on today from some of our favorite shops: Rue La La, Zulily, Jane.com and Snapfish. Click on the links below for more details.
@RueLaLa – 3 day sale for men, women and kids
@Zulily – SPANX women up to 65% off. Ends 12/11
@jane.com – Contrast Tunic Sweater $22.99 – 49% off
@Snapfish – 60% off sitewide – see code below.